Battery Maintenance and Replacement Services near Orland Park, IL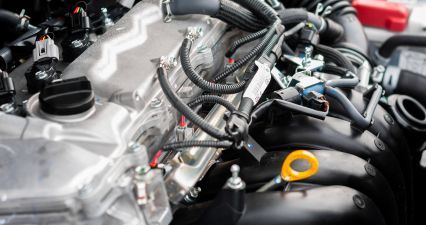 Sales Hours
| | |
| --- | --- |
| Monday | 9:00 am - 9:00 pm |
| Tuesday | 9:00 am - 9:00 pm |
| Wednesday | 9:00 am - 9:00 pm |
| Thursday | 9:00 am - 9:00 pm |
| Friday | 9:00 am - 9:00 pm |
| Saturday | 9:00 am - 5:00 pm |
| Sunday | Closed |
With the winter season coming to a close soon, it's a perfect time to get your battery checked with us at Kelly Nissan. The heat of the summer can sometimes be too much for the battery, especially if it's on its last legs. The only way to check how long your battery has left to live is to take part in our battery maintenance and replacement services near Orland Park, IL. Give us a call at 708-499-1000 to schedule a time to come in, so you don't wait until it's too late to fix up your battery.
Our technicians are prepared to efficiently perform your battery inspection, but also take their time making sure each piece is scrutinized properly. You can drop off your vehicle or wait in our comfortable lobby area, while we update you promptly on the status of your car. You can even check out photos and videos of your vehicle maintenance as updated in real time by our technicians through the Live Repair Orders feature on our website. Don't forget to check out our Service Specials online, where we always have various bundles for maintenance work that will help you save. You will feel relieved being able to trust in our mechanics to define the battery problem and take the necessary steps to solve the issue.
There are various ways a battery abrades over time, but our technicians will be sure to identify the problem in an efficient manner. Whether it needs to be charged up, cleaned, or replaced altogether, we are here to help figure out the needs of your battery and counteract corrosion and leakage. Perhaps the battery terminal is just dirty and needs to be filtered out. Our technicians will clean off the rust and take measures to ensure that corrosion is not a problem that persists. Sulfation accumulates when the battery voltage level is too low and can lead to battery failure if not treated properly. Battery performance decreases with this issue over time, but sulfation can be easily dissolved by using the right charger to wake up your battery. Bring your vehicle in for battery maintenance and replacement services near Orland Park, IL, and we will do the dirty work for you right here in our shop.
Depending on how often you use your vehicle, batteries typically have a lifespan of three to five years. If it comes down to replacing your battery altogether, there's no need to wait much longer or even schedule another appointment. We can do an efficient battery replacement at the end of the inspection by just swapping out your current battery for a brand-new one. With mechanics who are intelligent and experienced in the art of car maintenance, this service will take no time at all and will be tested properly to ensure optimal performance. Make sure you bring your vehicle in for regular maintenance, too, so we can catch issues early to save you money in the long run.
When you take part in our battery maintenance and replacement services near Orland Park, IL, you can be in and out of Kelly Nissan with a fixed-up battery in no time. All you have to do is visit 4300 West 95th Street in Oak Lawn, IL. Don't wait until your battery is at the end of its life to get an inspection performed—do it today!
Testimonials
Customer Testimonial
EVERGREEN PARK
May 15, 2015
Customer Testimonial
OAK LAWN, IL
May 15, 2015
Customer Testimonial
Blue Island IL
May 1, 2014
Customer Testimonial
Chicago IL
May 1, 2014
Customer Testimonial
Merrillville IN
May 1, 2014
Customer Testimonial
Burbank IL
May 1, 2014
Customer Testimonial
Chicago IL
May 1, 2014
Customer Testimonial
Chicago IL
May 1, 2014
Customer Testimonial
Palos Park IL
May 1, 2014
Customer Testimonial
Chicago IL
May 1, 2014
Customer Testimonial
Oak Lawn IL
May 1, 2014
Customer Testimonial
Alsip IL
May 1, 2014
Customer Testimonial
Oak Lawn IL
May 1, 2014
Customer Testimonial
Crestwood IL
May 1, 2014
Customer Testimonial
Oak Lawn IL
May 1, 2014
Customer Testimonial
Chicago IL
May 1, 2014
Customer Testimonial
Chicago Ridge IL
May 1, 2014
Customer Testimonial
Chicago IL
May 1, 2014
Customer Testimonial
Blue Island IL
May 1, 2014
Read More