New Tires for Sale near Countryside, IL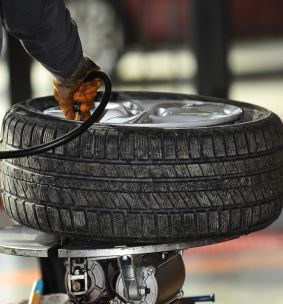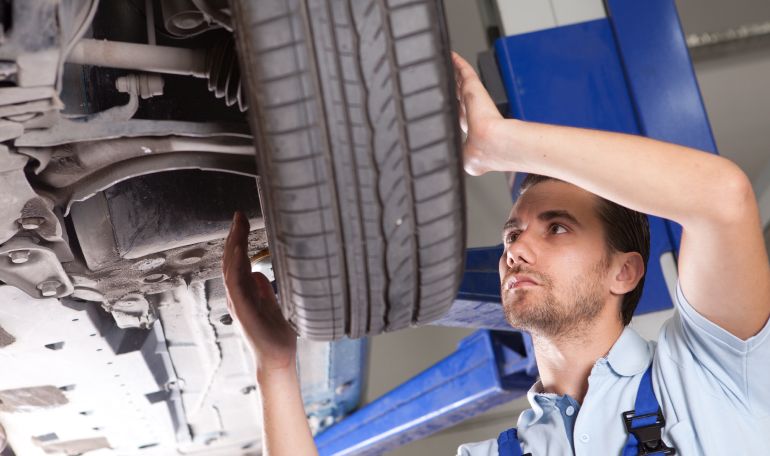 When you are in need of new tires, turn to us here at Kelly Nissan for affordable prices, quality work, and excellent customer service! Our technicians at your local Nissan service center near Countryside, IL, are experts in their field and can get your car equipped with a brand-new set in no time. Visit us today at our location, 4300 W. 95th Street in Oak Lawn, IL, to get a new pair of rubbers for your car!
Typically, every eight years or so, you'll need to replace your tires for new ones. It's also a good idea to keep in mind contributing factors that might affect this time frame like the road and weather conditions, your driving style, and how many miles you put on your car every year. These can all shorten that period in between changing tires, and especially since we live in an area that experiences all kinds of inclement weather, it's a good idea that you check your tires' tread level often. Your rubbers' traction is what maintains a steady drive and prevents you from swerving on icy and slick pavement. Eventually, this will wear down and you'll find that your vehicle tends to slip more often than usual.
To see if your tires still have enough tread, simply take a penny and place it in the tire's block. If you can see more than half of Lincoln's head, then your tires should be replaced with a new set, and that's where we come in! Of course, we are able to check your tires for you and let you know if you need new ones. Our technicians can also recommend what types of tires and which brands suit your vehicle best. By using our Ask a Tech form, you can contact our mechanics whenever you have a maintenance-related question. All you have to do is provide us with your vehicle's make and model, along with your contact information and your inquiry, and you'll hear a response from one of our certified technicians shortly.
Not only do we want do provide you with quality service here at Kelly Nissan, but make your experience with us one you won't soon forget! Our waiting area is packed with conveniences to make your time with us that much more enjoyable. Take advantage of our complimentary beverages and coffee, free Wi-Fi access, the kids' paly area, and more. Not to mention, we are always updating our service and parts specials to ensure that you get a budget-friendly rate on the maintenance you need.
Visit us here at Kelly Nissan today to view our wide selection of new tires for sale near Countryside, IL! We can't wait to get you back up and running on the road with a brand-new set that provides you with a safe and efficient ride. Make an appointment by calling 708-499-1000. We hope to hear from you soon!
Service & Express Service Hours
708-499-1000
| | |
| --- | --- |
| Monday | 7:00 am - 6:00 pm |
| Tuesday | 7:00 am - 6:00 pm |
| Wednesday | 7:00 am - 6:00 pm |
| Thursday | 7:00 am - 6:00 pm |
| Friday | 7:00 am - 6:00 pm |
| Saturday | 7:00 am - 5:00 pm |
| Sunday | Closed |
Testimonials
Customer Testimonial
EVERGREEN PARK
May 15, 2015
Customer Testimonial
OAK LAWN, IL
May 15, 2015
Customer Testimonial
Blue Island IL
May 1, 2014
Customer Testimonial
Chicago IL
May 1, 2014
Customer Testimonial
Merrillville IN
May 1, 2014
Customer Testimonial
Burbank IL
May 1, 2014
Customer Testimonial
Chicago IL
May 1, 2014
Customer Testimonial
Chicago IL
May 1, 2014
Customer Testimonial
Palos Park IL
May 1, 2014
Customer Testimonial
Chicago IL
May 1, 2014
Customer Testimonial
Oak Lawn IL
May 1, 2014
Customer Testimonial
Alsip IL
May 1, 2014
Customer Testimonial
Oak Lawn IL
May 1, 2014
Customer Testimonial
Crestwood IL
May 1, 2014
Customer Testimonial
Oak Lawn IL
May 1, 2014
Customer Testimonial
Chicago IL
May 1, 2014
Customer Testimonial
Chicago Ridge IL
May 1, 2014
Customer Testimonial
Chicago IL
May 1, 2014
Customer Testimonial
Blue Island IL
May 1, 2014
Read More