Tire Rotation Service near Countryside, IL
As the main contact with the road, your tires are inevitably subjected to wear. However, with a simple tire rotation service near Countryside, IL, you can prolong your tires' longevity, as well as eliminate premature wear. Here at Kelly Nissan, you can bring your vehicle in as soon as today for a quality tire rotation that can help your vehicle's overall performance – and safety – on the road.
A regular tire rotation can make all the difference on your vehicle. Your tires wear for many reasons, and this simple procedure helps combat those. The main point of a rotation is to evenly distribute wear. When you bring your vehicle to our Service Department, our technicians will remove your tires and perform a thorough inspection of each to determine the most effective positioning of the tires on your vehicle. Once they have figured out the best plan of action, they'll put the tires back on your vehicle where they will wear more consistently. As an added measure, they will also check the pressure level of each, and adjust if necessary.
One of the most common positionings includes switching the front tires with the back. On FWD vehicles, your front tires encounter the brunt of all conditions, as well as endure the added pressure/resistance of steering, which is why they often wear more quickly. With living in the climate that we do, rotations are almost more important for us, as we experience more rugged road conditions. In the midst of winter, all you want is optimal traction to tackle Plainfield Road, and your tires' condition can make that an easy or a difficult feat, regardless if you have FWD or AWD. To learn more about the importance of a tire rotation service near Countryside, IL, you can utilize our Ask a Tech form here on our site, which lets you send in an inquiry to one of our mechanics.
Now that we know why a rotation is necessary, it's also vital to know when the proper time is. Considering our Midwest location, acquiring one before the winter months set in isn't a bad idea. This provides you plenty of time to have your tires checked and, if necessary, replaced. Thanks to our spectacular Service Department, we can even do both for you. The suggested interval between rotations is twice a year, or roughly every 6,000 miles. However, many aspects can alter that, which is why you can always contact us if you have any questions!
Maximize the life of your vehicle's tires with a quality tire rotation service near Countryside, IL. Not only will they last longer, but you'll also get to enjoy better gas mileage and a smoother ride. Stop by Kelly Nissan today!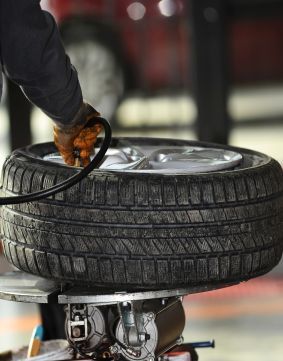 Service & Express Service Hours
708-499-1000
| | |
| --- | --- |
| Monday | 7:00 am - 6:00 pm |
| Tuesday | 7:00 am - 6:00 pm |
| Wednesday | 7:00 am - 6:00 pm |
| Thursday | 7:00 am - 6:00 pm |
| Friday | 7:00 am - 6:00 pm |
| Saturday | 7:00 am - 5:00 pm |
| Sunday | Closed |
Testimonials
Customer Testimonial
EVERGREEN PARK
May 15, 2015
Customer Testimonial
OAK LAWN, IL
May 15, 2015
Customer Testimonial
Blue Island IL
May 1, 2014
Customer Testimonial
Chicago IL
May 1, 2014
Customer Testimonial
Merrillville IN
May 1, 2014
Customer Testimonial
Burbank IL
May 1, 2014
Customer Testimonial
Chicago IL
May 1, 2014
Customer Testimonial
Chicago IL
May 1, 2014
Customer Testimonial
Palos Park IL
May 1, 2014
Customer Testimonial
Chicago IL
May 1, 2014
Customer Testimonial
Oak Lawn IL
May 1, 2014
Customer Testimonial
Alsip IL
May 1, 2014
Customer Testimonial
Oak Lawn IL
May 1, 2014
Customer Testimonial
Crestwood IL
May 1, 2014
Customer Testimonial
Oak Lawn IL
May 1, 2014
Customer Testimonial
Chicago IL
May 1, 2014
Customer Testimonial
Chicago Ridge IL
May 1, 2014
Customer Testimonial
Chicago IL
May 1, 2014
Customer Testimonial
Blue Island IL
May 1, 2014
Read More