Tire Rotation Service near Orland Park, IL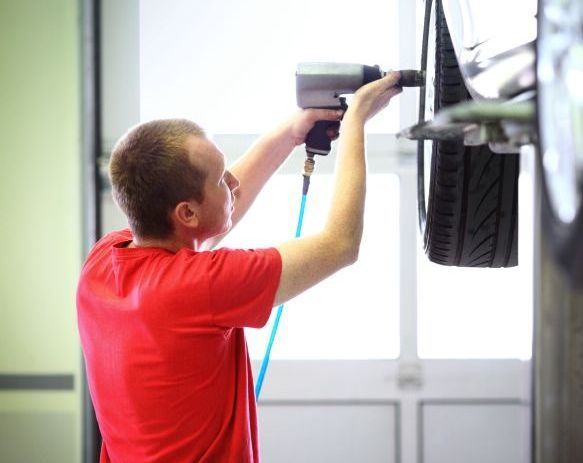 A simple tire rotation can make all the difference not only on your vehicle's performance, but also on the lifespan of your tires. Your tires are a vital aspect of your vehicle, so it's important to keep them healthy and maintained. Because of this, we at Kelly Nissan offer a tire rotation service near Orland Park, IL.
So, what exactly is a tire rotation? Everyone's tires wear, it's inevitable and to be expected. Since they wear unevenly, though, a tire rotation helps distribute the wear more evenly to prolong the livelihood of your tires. When you bring your vehicle into our service center, our technicians will inspect the tread pattern on each tire, and determine the configuration to rotate them in. More often than not, the front tires wear more quickly, as they lean more on turns. So, a common rotation is moving your rear tires to the front, and vice versa.
When our mechanics figure out the ideal rotation for your vehicle, they will then remove each tire, and move them to a new position. After this, they will also check the air pressure of your tires to ensure they're properly inflated. If not, they will adjust it accordingly. The last item that they will check are your brakes, since it's easy to inspect them while the tires are off. For your convenience, you can schedule an appointment right here on our site for a tire rotation service near Orland Park, IL. Thanks to our technicians' expertise and efficiency, they will get you in and out in no time!
Many people aren't aware that tire rotations are a vital maintenance that should be done on a regular basis. It is often recommended to bring in your car every 3,000 to 7,000 miles to help them wear evenly. Of course, it's always smart to reference your Owner's Manual, as it will give you a more precise timeframe depending on your vehicle's make and model. The longer you put off a tire rotation, the more likely one or more is bound to give out due to wear. Thus, you'll be left with having to pay for a new tire or even a set of tires, which can cost a pretty penny in and of itself.
We at Kelly Nissan encourage a routine tire rotation service near Orland Park, IL, to help improve your vehicle's performance and your tires' longevity. You can contact us at (708) 499-1000 for more information, or to schedule an appointment!
Testimonials
Customer Testimonial
EVERGREEN PARK
May 15, 2015
Customer Testimonial
OAK LAWN, IL
May 15, 2015
Customer Testimonial
Blue Island IL
May 1, 2014
Customer Testimonial
Chicago IL
May 1, 2014
Customer Testimonial
Merrillville IN
May 1, 2014
Customer Testimonial
Burbank IL
May 1, 2014
Customer Testimonial
Chicago IL
May 1, 2014
Customer Testimonial
Chicago IL
May 1, 2014
Customer Testimonial
Palos Park IL
May 1, 2014
Customer Testimonial
Chicago IL
May 1, 2014
Customer Testimonial
Oak Lawn IL
May 1, 2014
Customer Testimonial
Alsip IL
May 1, 2014
Customer Testimonial
Oak Lawn IL
May 1, 2014
Customer Testimonial
Crestwood IL
May 1, 2014
Customer Testimonial
Oak Lawn IL
May 1, 2014
Customer Testimonial
Chicago IL
May 1, 2014
Customer Testimonial
Chicago Ridge IL
May 1, 2014
Customer Testimonial
Chicago IL
May 1, 2014
Customer Testimonial
Blue Island IL
May 1, 2014
Read More